Have you ever… 
heard about a math routine, but felt unsure how to make it work in your classroom?
found yourself overwhelmed by math routines?
been excited about implementing one in your classroom, only to discover you're not getting the results everyone else is bragging about on social media?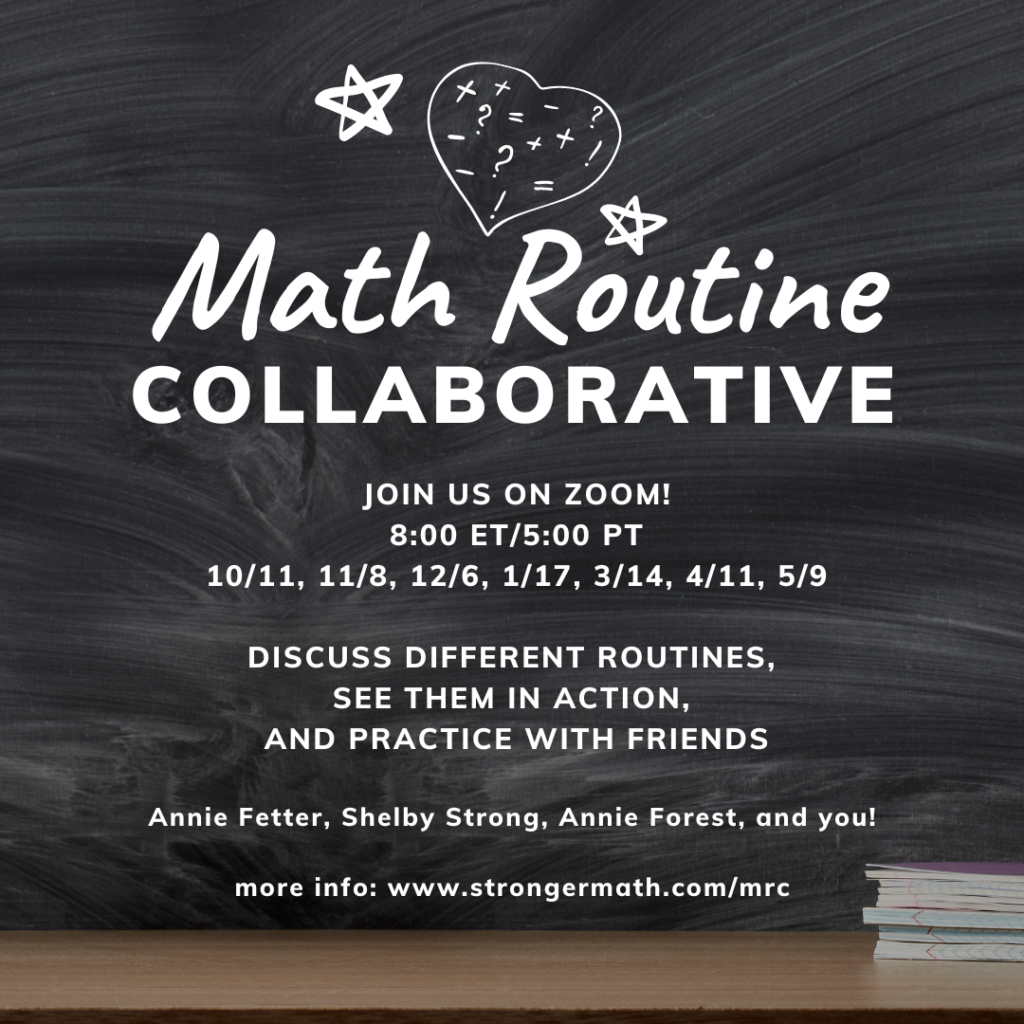 Come join Annie Fetter, Annie Forest, Shelby Strong, and other surprise guests as we model several math routines, unpack the ideas behind them, and practice facilitating them with one another.
We meet once a month during the 22-23 school year, on Tuesdays at 8:00 ET/5:00 PT. Our tentative schedule of topics:
10/11 – Number Talks/Problem Strings
11/8 – Notice and Wonder
12/6 – TBD
1/17 – TBD
3/14 – TBD
4/11 – TBD
5/9 – TBD
(Note: these dates are tentative as of 9/20/22)
FAQ:
Do I have to attend every session?
While we'd absolutely love to see you each time, we know that real life is also happening. Feel free to join us when you can!

I can't join you at 8:00 ET, can you change the time?
We went back and forth a lot about this. Unfortunately, it's really hard to schedule these sorts of things at a time that isn't too late for East Coast friends, or too early for West Coast friends, not to mention our international friends. If we could build a time machine, we totally would!
Will sessions be recorded?
We are hoping to hold space for rich conversations. People might ask questions or take risks in trying something new! Because we want everyone to feel safe to ask those questions or take those risks, we have decided not to record the sessions.
Can I receive PD credit for attending?
We know this collaborative is serving as great professional development for us all! However, formalizing attendance, sign-in, and giving certificates of completion are beyond what we are able to provide.
I'm interested! How do I sign up?
Register here if you'd like to join us this school year for a mathematically good time!